This shop has been compensated by Collective Bias, Inc. and its advertiser. All opinions are mine alone. #RegisteringForBaby #CollectiveBias
My brother and sister in law are expecting their first baby this spring, and I am so excited! I haven't thrown a shower since my sister was expecting her first child two years ago, so I can't wait to throw Shelby a baby shower. Baby showers are a really special time to celebrate a mom-to-be, give good parental advice, and also to stock baby's nursery with items they will need.
Here are a few good tips for planning and hosting the perfect baby shower!
Plan Ahead
Get with the person you are hosting for and get their guest list! Make sure you don't forget anyone, and this will give you an idea of what size of venue you need. Invitations need to go out 4-6 weeks ahead of time to be sure your guests can get the date on their calendar.
Gather Ideas for Refreshments
If you are expecting a lot of guests, you may want to stick with something easy like just desserts or appetizers. The time of day also can help you determine what food to serve at the shower. If you have a shower around noon, you would want to serve a light lunch. Veggie trays, finger sandwiches, chips and dip, and of course, some sort of dessert are easy shower refreshments.
Help the Mom to Be with the Registry
Baby registries can be very overwhelming. The Target Baby Registry makes things LESS overwhelming! I started one online for Kris and Shelby and it was a breeze! Simply go to Target's website, click on Registries and Lists, then click on the Baby Registry. I filled in their personal information and voila! The baby registry is created and ready to be used. There's even a Target registry app you can download that's compatible with iPhone and Android. It was quick and easy, and now it's ready for Shelby to use before her baby shower.
When your registry is created, it pre-populates some amazing Johnson and Johnson items for you! I went ahead and purchased the Johnson's® Bath Discovery Set and the Infant TYLENOL® 2oz. Cherry. These are items that I used and loved when my kids were babies, so I know that they are items that Shelby will want. You can shop these items from the photo below!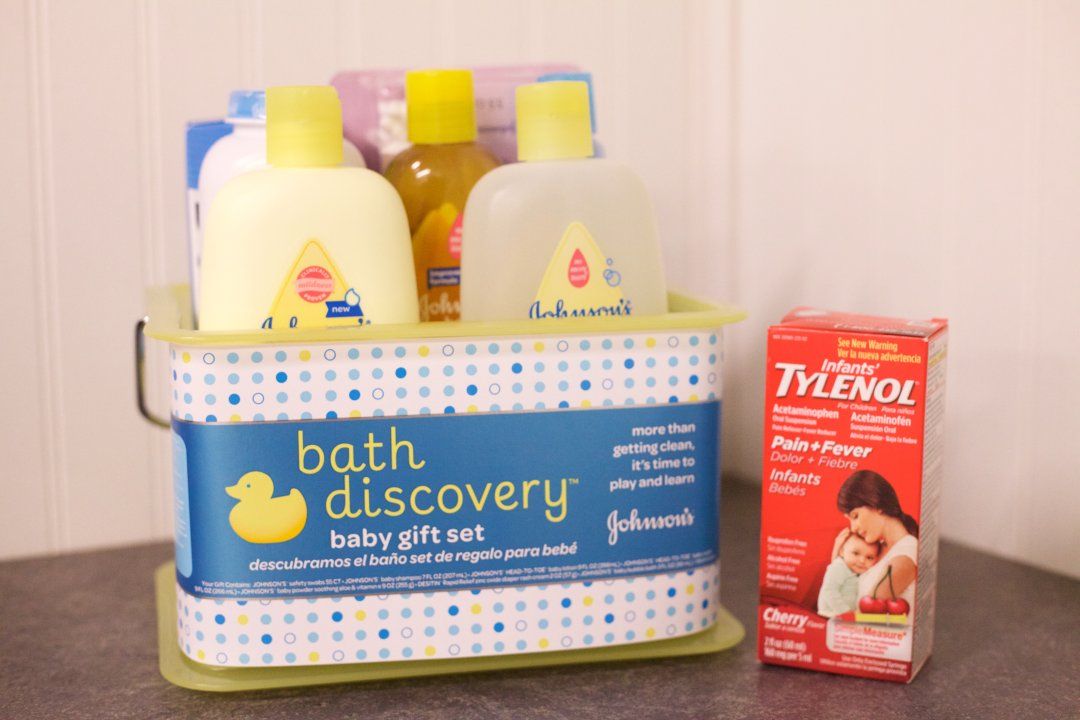 Target makes it so easy to add what you need to your baby registry. They have a checklist feature that helps you get the basics, including stroller, car seat, nursery furniture, bath products, and health and safety items.
Other benefits to using Target's baby registry?
Registrants will receive a Welcome kit – pick up your gift at Guest Services for $50 worth of coupons & handpicked samples.
Registrants will receive a 15% off discount that will be emailed 8 weeks before their arrival date to provide savings on anything left on the registry.
Target offers easy returns and exchanges up to a year after your arrival date.
Target Baby registry offers Group gifting, making it easy for guests to contribute to larger items.
With Gift tracking, registrants can match gifts to guests and manage their thank you list.
My favorite feature is the Gift tracking! You can go in after the shower, see who bought what gift, and make sure you send your thank you card to the correct person.
Keep a list!
Start a list of tasks and cross them off as you go. From deciding on a theme, to getting the invitations, keep an organized list so something doesn't slip through the cracks. If you are planning the shower with others, divide and conquer! We are in the beginning stages of planning, so don't worry- my list will soon be filled!
Enjoy this time!
Don't let the shower go by without enjoying it! I look forward to Shelby's shower and being fully present in this special day for her. I am sure it will be a fun afternoon with friends and family, and I can't wait to be part of this journey of helping them prepare for their first baby!